When Ian came to see Mr Shah he was suffering from chronic pain in his knee, which was affecting everyday activities such as gardening and even walking. Following a thorough consultation Mr Shah quickly established that Ian's pain was in fact caused by arthritis in his hip.
Mr Shah explained to Ian that that by carrying out a total hip replacement he would be able to reduce the pain in his knee by up to 75%. During the subsequent operation Mr Shah removed Ian's arthritic hip and replaced it with a ceramic-on-ceramic uncemented prosthesis.
The use of a ceramic-on-ceramic bearing surface will ensure that Ian's hip replacement lasts longer than a traditional metal-on-plastic bearing, while a less invasive approach helped to speed up his post-surgery rehabilitation.
With the help of physiotherapy and determination, Ian has made a fantastic recovery and he was even able to hit the slopes – albeit gently – just months after his hip replacement.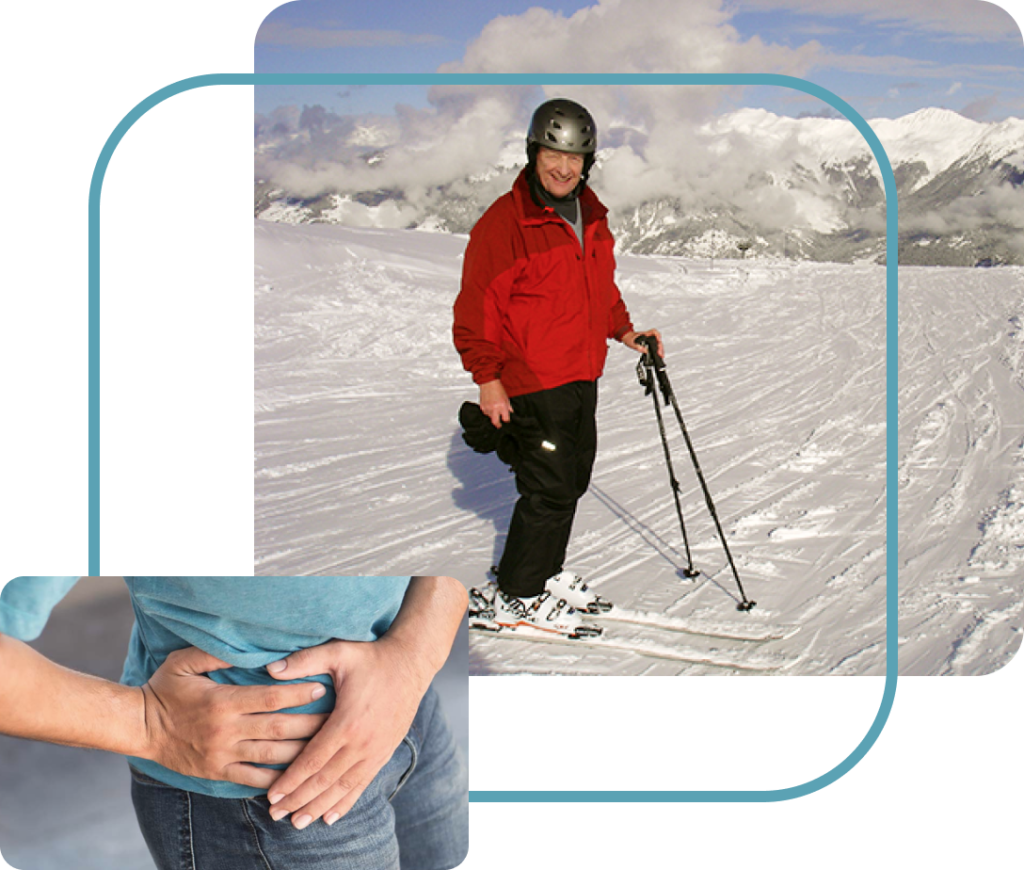 At the beginning, you think it's going to take a long time to get your mobility back, but if you persevere with the exercises they give you, you look back now and you think it doesn't seem to be a long time. I would summarise my life now as being pain-free. I have renewed optimism for the future.
My second hip replacement, completed nearly a year ago, is progressing very well. I am pain free, walk-leading for the Horsham Health Walks and going to the gym weekly. I find it important to keep up the exercises.
My thanks to Mr Shah and his team at Goring Hall for making both operations so successful. I have also been on a skiing holiday with my grandchildren which proved to be very enjoyable.

Linda's double hip replacement
Linda was referred to Mr Nirav Shah with secondary arthritis as a result of hip dysplasia

Christine's double hip replacement
Christine was suffering from severe arthritis in her left hip when she came to see Mr Shah in 2013

Yvonne's double hip and knee replacements
Yvonne was referred to Mr Shah for an orthopaedic assessment by her GP

Mervyn was referred to Mr Shah with advanced osteoarthritis in his right hip joint, which was causing him considerable pain and restricting everyday activities