Susan's double hip replacement
Susan initially thought that she was suffering from chronic muscle strain when she began to experience pain in her right hip joint. However, when her symptoms failed to improve with the help of conservative treatments such as painkillers and physiotherapy, her GP referred her for an X-ray, which highlighted significant osteoarthritis.
Susan's arthritis had already reached an advanced stage, so Mr Shah recommended a total hip replacement to relieve her of her symptoms. The procedure was carried out using an uncemented, ceramic-on-ceramic bearing prosthesis, which over time would integrate with Susan's own bone to provide a long-lasting hip replacement that should last a lifetime.
The use of a minimally invasive technique and shorter implant also meant that Susan experienced less soft tissue damage during the surgery and a shorter and faster rehabilitation. The result: just four weeks after her operation, Susan was walking miles each day and just a few months later she was gorilla trekking in Rwanda.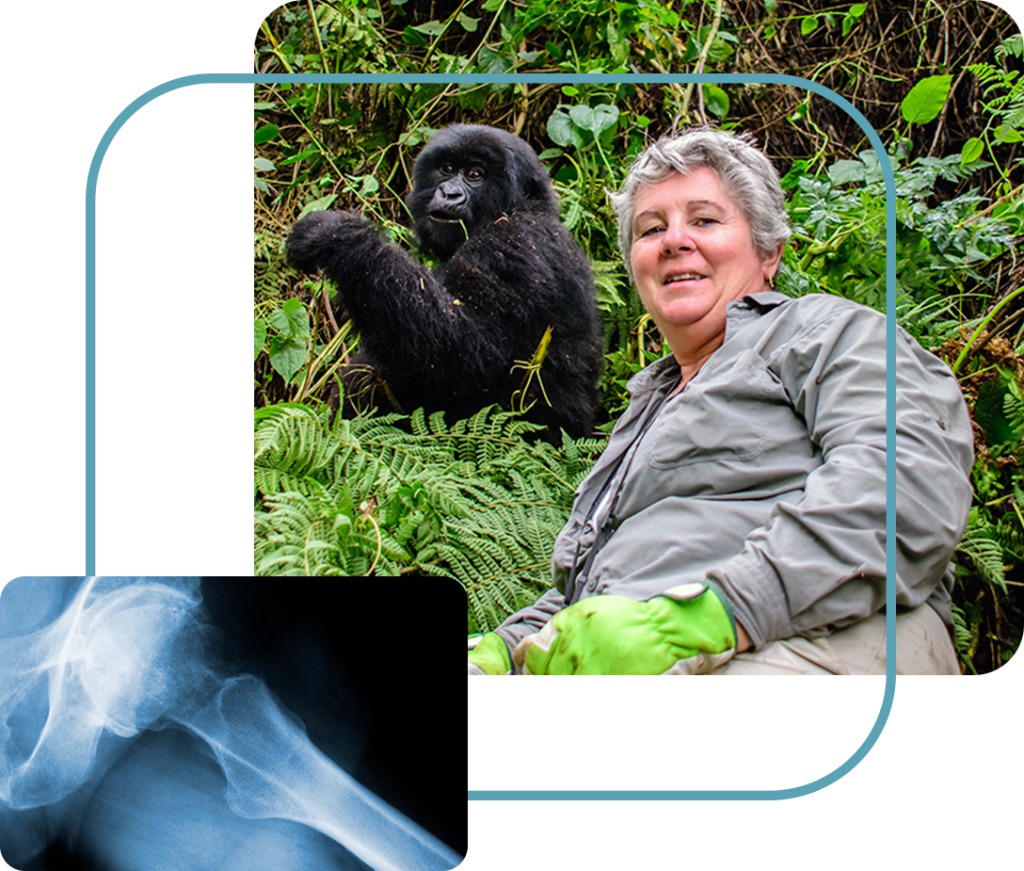 I am absolutely thrilled to bits with my new hip. I am 55 years old, so in my eyes still young. I am a grandma to four grandchildren seven-years-old and under (the youngest being 23 months).
For about a year due to the pain, I have been unable to get on the floor to play with them or push them on swings etc. I have been unable to go to most of my exercise classes, which I have really missed. I love my Zumba classes. Before surgery, I was walking with the help of a stick for four months and I was on morphine. But thanks to Mr Shah and his wonderful team at Goring Hall that has all changed.
In May 2017, Mr Shah performed a total right hip replacement on myself. I was walking without aids from four weeks post-surgery and walking two miles each morning and the same in the afternoon. As each week went by I was able to achieve more and more until I now feel almost back to normal. I have been going to the gym since eight weeks post-surgery and all of the staff including the personnel trainers are staggered at how well I have done.
I am now 14 weeks post-surgery and feel really good. My husband and I are off shortly on holiday to Rwanda, Gorilla Trekking, I wouldn't have been able to think about going on this holiday before Mr Shah worked his magic on me.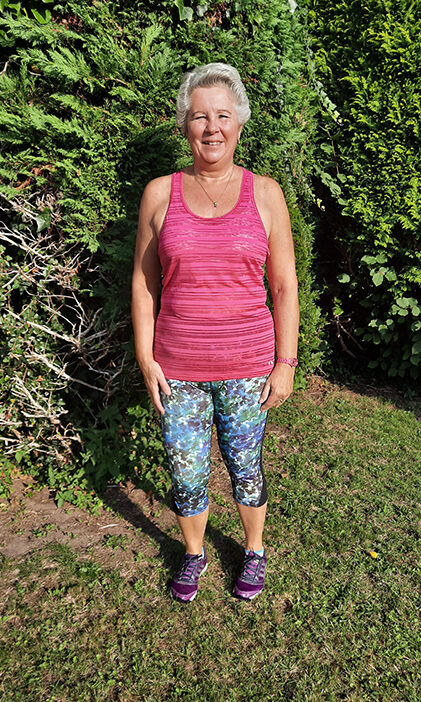 We trekked for five hours in the forest, the terrain was wet and it was really, really difficult. It was steep in places, thick foliage everywhere and of course trying to cope with the altitude as well. I did not suffer from any pain during or after the trek regarding my new hip. I am so pleased with my new hip.
It's just over eight months since Mr Shah gave me my second new hip ( I now have a matching pair). Mr Shah also gave me my first hip three years ago, and both times the care I was given by Mr Shah and his team at Goring Hall was wonderful.
My first hip was very successful, so knowing my second hip needed replacing I only wanted it done by Mr Shah. I am now back doing what I want to. I love dancing and am now able to go back to my dancing and pilates classes at the gym. I have four young grandchildren who keep me busy, and since I have my new hips, I can enjoy playing and running around with them pain-free.
I was hoping to go to Australia and snorkel in the Great Barrier Reef this summer for our 40th Wedding Anniversary but due to the covid virus that had to be postponed. Fingers crossed for next year.

Linda's double hip replacement
Linda was referred to Mr Nirav Shah with secondary arthritis as a result of hip dysplasia

Christine's double hip replacement
Christine was suffering from severe arthritis in her left hip when she came to see Mr Shah in 2013

Yvonne's double hip and knee replacements
Yvonne was referred to Mr Shah for an orthopaedic assessment by her GP

Linda's double hip replacement
Linda was referred to Mr Nirav Shah with secondary arthritis as a result of hip dysplasia